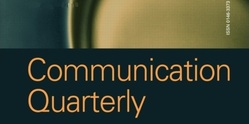 Call for Editor – Communication Quarterly
Deadline: July 15, 2017
ECA members are invited to submit nominations or self-nominations for Editor-elect of Communication Quarterly, Volumes 67-69 (2019-2021). All candidates who meet the membership requirements set forth in the ECA Constitution, Article III and the Bylaws, Article IV, are eligible to apply.
Communication Quarterly is published five times per year. As ECA's flagship journal, Communication Quarterly has been edited by nineteen scholars from around the nation, and continues to publish the finest quality research in the communication discipline.
Nominees should be able to secure institutional support for this position, including financial support, secretarial support and release time as appropriate. Nominees should submit:
A letter of application

Copy of current vita

A letter of institutional support

Three letters of recommendation
Nomination materials are due by July 15, 2017. Please send all documents electronically to:
Benjamin Bates, ECA President and Chair of Publications Committee
batesb@ohio.edu
* Basic eligibility requirements: (1) membership in good standing from within the specified eastern region OR membership in good standing for at least 5 consecutive years; and (2) current membership maintained in good standing for duration of editorship.
view all news
News & Notes
view all events
ECA Calendar
April 25-29, 2018
Omni William Penn Hotel
Pittsburgh, PA
April 10-14, 2019
Omni Providence Hotel
Providence, RI
April 1-5, 2020
Hyatt Regency Baltimore
Baltimore, MD