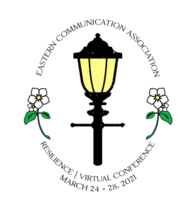 Conference Planning in Uncertain Times
ECA 2021 | January 2 Conference Update

A Fully Virtual Event
Wednesday, March 24 - Sunday, March 28, 2021
Resilience
Happy New Year, ECA friends and colleagues!
The conference planning team would like to share the following updates with the ECA community.
First, in case you missed our earlier announcement, the 2021 ECA Convention will be a fully on-line, virtual experience that will feature our regular offerings and opportunities, including panel/paper sessions, short courses, workshops, and keynote presentations. With the transition to fully virtual, we created an additional submission opportunity for special programming in the areas of "Resilient Teaching," "Resilient Research," and "Resilient Academic Leadership." If you'd like to submit a proposal, please contact Susan Mancino (smancino@saintmarys.edu), second vice president, by January 10th.
Over the next few weeks, you will receive updates on our virtual conference platform as well as an easily accessible list of FAQs. We'll also be sharing details on upcoming training sessions and optional "Office Hours with the Conference Planner" to discuss the virtual conference platform.
Convention acceptance notifications will be sent mid-January.
In the meantime, our most recent video announcements are available here: https://www.facebook.com/ECACOMM/?view_public_for=386482221480825
Second, please continue to keep an eye on our social media accounts for ECA 2021 convention announcements.
Facebook: https://www.facebook.com/ECACOMM/?ref=page_internal
Instagram: https://www.instagram.com/easterncomm/
Twitter: https://twitter.com/ECACOMM
Lastly, to explore virtual sponsorship opportunities, please contact Matt Mancino (mattmanc@iu.edu), director of sponsorships. As always, if you have any questions, please reach out to Amanda McKendree (amckendree@nd.edu), primary conference planner.
Wishing you a Resilient start to 2021!
Amanda and the Conference Planning Team
view all news
News & Notes
02/24/2021
ECA Officers encourage submissions to these awards by the extended deadline of March 15, 2021!
10/13/2020
Dr. Gerald Lee Ratliff, age 75, of Rock Island, Tennessee passed away on January 14, 2020 at his home. Gerald was born in Middletown, Ohio on October 23, 1944.
view all events
ECA Calendar
April 27 - May 1, 2022
Hyatt Regency Buffalo Hotel and Conference Center
Buffalo, NY