A Message from the Vice President:
Greetings! ECA will be here before we know it. Please take a moment to register for the conference by selecting here.

Here are a few highlights to consider when registering:

The Basic Course Conference takes place on April 10, 2019. Sara Weintraub and Candice Thomas-Maddox planned an exciting conference. You can find information on the Basic Course Conference by selecting here.

I also want to draw your attention to the Short Courses for this year's conference. Sara Labelle put together a tremendous offering of courses created by our esteemed colleagues. You can find information on the short courses here.

While you are at the conference, don't forget to get out into the community. Our 2nd V.P., Julie Volkman, continues to work hard to make our visit to Providence a rich experience. Two activities to consider when registering are
An Evening with Lizzie Borden on 04/11 and Going to the PawSox game on 04/12.
I look forward to seeing you in Providence!
Thank you, Katherine
Katherine S. Thweatt
Eastern Communication Association Vice President
eca2019ri@gmail.com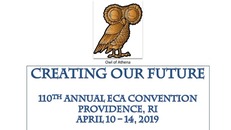 view all news
News & Notes
view all events
ECA Calendar
April 1-5, 2020
Hyatt Regency Baltimore
Baltimore, MD
March 24-28, 2021
Hyatt Cambridge
Cambridge, MA